Weddings & Events
Great Fall 2023 Dates still available!
Find out how to save 15% off your wedding package!
AnnMarie Mong - 508-839-1945 ext 222 [email protected]
Make an impression without saying a word…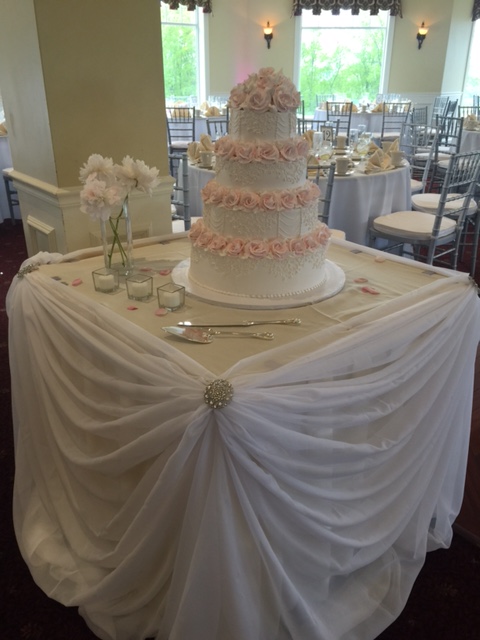 Every occasion shines at Highfield's Golf & Country Club. The club provides a beautiful backdrop for Wedding receptions, rehearsal dinners, corporate socials, business meetings, golf outings, luncheons and a host of other special occasions. Customized event planning and impeccable service make any event at Highfields truly a special occasion. Our dedication and attention to detail will allow everyone to relax and enjoy the event.
Our beautifully decorated Clubhouse surrounds you with warmth and casual elegance. Our spacious Claddagh Room can seat up to 225 guests and boasts magnificent views of our perfectly manicured golf course and the Worcester Hills, with a private patio overlooking the 18th green.
For occasions where the guest list is smaller and the moments more intimate, Highfield's Golf & Country Club offer smaller private dining rooms.
Thank you for taking the time to consider Highfields Golf & Country Club as the site for your wedding or banquet.
"Highfields was amazing!!!! The grounds are beautiful, the staff is fantastic, AnnMarie is the best! Working with AnnMarie and all of the staff was a great experience, she checked in with me throughout the planning process and during all our meetings continued to remind me that this was my day. The day of the wedding we were taken care of with kindness and respect. The staff were caring and ensured that we were eating throughout the day. I have absolutely zero complaints. My day was perfect and I highly recommend anyone who is getting married to choose Highfields, if the scenery does not win you over AnnMarie absolutely will."

-Kalianne & Kevin
"Annmarie the Wedding Coordinator is simply amazing!! She has so many years experience she doesnít miss a beat! Even faced with deadlines and stress she is cool as can be and will not forget a thing! I canít say enough about her!! The venue is fairly new and gorgeous. You have access to the entire grounds and clubhouse. The food was amazing and the wait staff was spot on. Olivia who is part of the wait staff is top notch. I can not say one bad thing about my wedding experience but just the opposite. I can not say enough positive things!!"

-Kim & Jason
"My husband and I are so happy that we choose Highfields as our ceremony and reception venue! The coordinator AnnMarie was very helpful and patient with my many questions throughout the wedding planning process. The day of the rehearsal AnnMarie was very thorough explaining how everything would go the night of the wedding. On the day of the wedding everything went off perfectly, everything started on time, the food was great and served in a timely manner and AnnMarie was always around to answer any questions we might have. Thanks Highfields!"

-Christine & Dan
"My husband and I were married at Highfields Golf & Country Club this past saturday and let me tell you our wedding left nothing to be desired! Everything was absolutely perfect. Walking into the ballroom and seeing everything put together made me feel like I was walking into a fairytale. If Matt or I needed anything AnnMarie was right there. She made sure we covered every last detail of our wedding. I donít know that I will ever be able to sum up just how amazing our wedding at Highfields was but I can tell you it is somewhere worth looking into if you are getting married! You wonít be sorry! We loved everything about Highfields, we even had our rehearsal dinner there! The food at both the rehearsal and the wedding was amazing and delicious. I canít say enough good things. Thank-you Highfields and AnnMarie for a perfect wedding beyond everything we ever could have imagined. Our guests have been buzzing about how it was one of the best weddings theyíd ever been too!"

-Kara & Matt